REGISTRATION: Starting a Business in the UK Webinar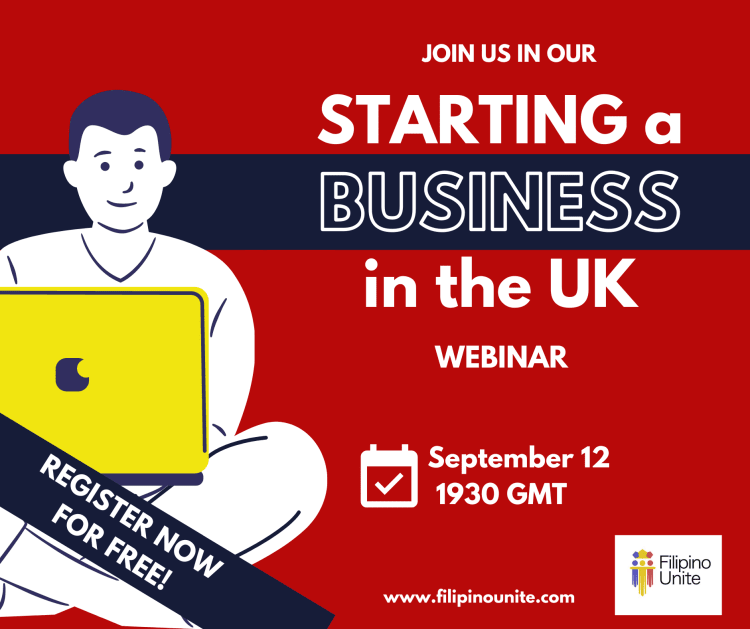 Join us in the 2nd part of Filipino UNITE Webinar Series. We have invited UK Based Filipino successful entrepreneurs to share their experience and give us their insights on how to start our own business.
Day 3 (September 12)
Get some useful insights from 2 of our successful Filipino Entrepreneurs in the UK, John Belmonte and Jimmy Wong.
John Belmonte is the Founder & CEO of Comfort Healthcare, Comfort Remit and the new owner of Spoon and Rice. He is also the founder of Filipino Unite. Jimmy Wong is the founder of ADF Group International.
They will teach us how to start a business in the UK and share with us their lessons from building their own businesses, including how they use social media in marketing them.
Who can join?
All Filipinos in the UK are welcome to join. Filipinos outside UK are also welcome to attend however please note that some ofthe content may only be relevant to UK standards/ guidelines.
This is a project of Filipino Unite, a non-profit organisation based in the UK, aimed to help, support and raise the profiles of Filipinos in the United Kingdom.