REGISTRATION: Finding & Getting a Job Webinar Series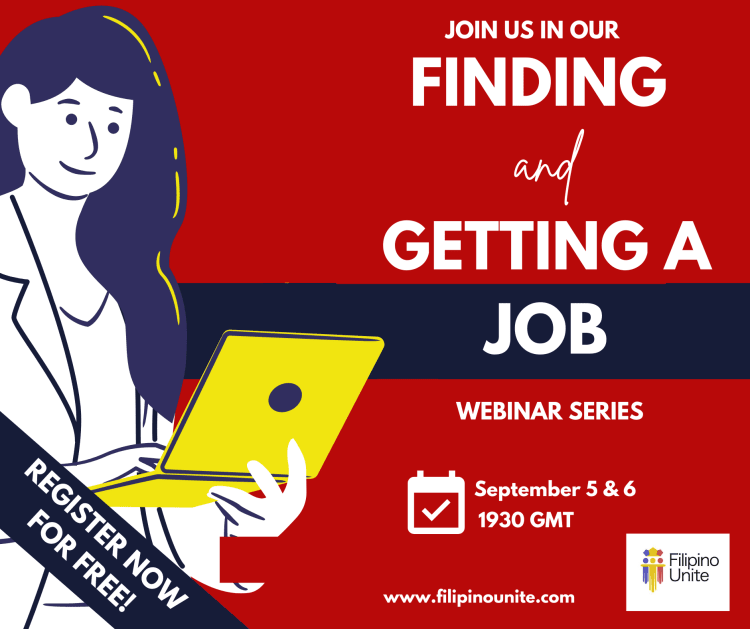 Join us in our 1st Filipino Unite Webinar Series. We have invited UK Based Filipino guest speakers from the field of HR/Recruitment to teach us how to successfully land your next job.
Day 1 (September 5 at 730PM)
Learn some practical tips from the HR & Recruitment Specialists, Leslee Natividad and Paz Bermudez. They will teach us how to create a Winning CV, how & where to search for jobs, career options available in the UK current climate.
Day 2 (September 6 at 730PM)
Hear directly from the Recruiter and Hiring Manager, Gracia de Gracia and Michael Duque, respectively. They will share with us tips on how to prepare and present our best self during the interview.
Who can join?
All Filipinos in the UK are welcome to join. Filipinos outside UK are also welcome to attend however please note that some of the content may only be relevant to UK standards/ guidelines.
This Webinar series is a project of Filipino Unite, a non-profit organisation based in the UK that aims to help, educate and raise the profile of the Filipinos in United Kingdom. For more information on how to volunteer or services, please visit www.filipinounite.com.