2021-2022 TOP LATINOS de NEW JERSEY
SOME OF THE MOST INSPIRING LATINO STORIES OF RESILIENCE, COMMITMENT AND COMPASSION, ANCHORED ON OUR CULTURE, OUR HERITAGE, AND OUR SPANISH LANGUAGE - CREATING A BETTER FUTURE FOR THEIR FAMILIES, NEIGHBORHOODS, CITIES, COUNTIES, AND STATE
A diverse panel of judges (elected officials) assesses nominee bios to provide scores on each nominees' impact on the Latino community in New Jersey. This process allows for an unbiased system to find the heroes of the Latino community. This year we decided to make it a little harder TOP ranked and will only List the Top 25 Latinos of New Jersey. Nominees and The Top 25 will receive multiple media opps on Radio, TV, and the Internet. The Top 25 will receive a free 2021/2022 New Jersey Latino Top 25 poster, the #1 this year will receive an undetermined award. A lot of work goes into each nominee's process so there is a nomination fee to process and register the nominee.
MAKE SURE TO SUBMIT REGISTRATION FEE FOR NOMINEE:
There is a $22 fee for each nominee, which goes towards:
1. Graphic1 - Graphic Design Overall Nominated
2. Graphic2 - Graphic Design Individually Nominated
3. Database insertion and management of Nominated
4. Email to each Nominee requesting information
5. Online Form for each nominee to Fill Out for Judge Panel
6. Online Form of each nominee for Judge Panel to Review
7. Process for nominated to be recognized for the nomination - 2021-2022 Certificate
8. Multiple media opps for being nominated.


RULES:
NOMINEES from LAST year WILL be listed; however, only if the nominee ranks higher than the previous nominated year he/she will be listed in the TOP25 - We will also LIST honorable mentions from Counties where there aren't many Latinos.
1. Self-nominations are permitted, however, lawyers, doctors, government workers, realty salespeople, and any other type of work that constitutes compensation for a service that requires educating customers AND/OR working with the community in order to offer a service is not permitted.
2. This Year 2021, we are accepting Latino elected officials, Latino clergy and Top Latino Community Friends. The 3 New categories however, will be separate from the Top Latinos of New Jersey and we'll only list 5 for each category in the state. Top 5 Latino Elected Official, Top 5 Latino Clergy, Top 5 Friend of the Latino Community. Note: Once the nominations are closed these nominees will be voted by El Pueblo and not by the panel of judges.
3. Entrepreneurs/Businessowners who generate employment and impact the Latino community with their endeavors are permitted to be (self)nominated. Media companies led by a Latino entrepreneur are permitted to be nominated.
4. We believe in redemption - formerly incarcerated people with a non-violent offense that have proven to society (with proof) they are now law-abiding citizens are accepted. Formerly incarcerated Sex Offenders / Violent Offenders and people who've been disbarred or terminated from committees or entities for unethical or dishonesty or embezzling public funds will not be listed.
NO REFUNDS!
We operate on Scout's Honor.

THIS IS OUR 2022/2021 COLLECTABLE POSTER
Only 150 Printed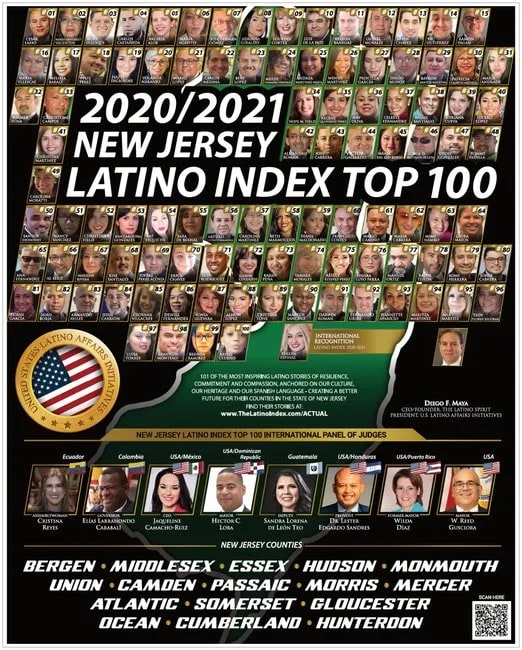 This survey is not available for your location.